Update As of : 5/23/99
At about 3PM of last Saturday May 22, 1999 Pouya Mofrad, after eating his last meal with the help of his mother, and his father at his side, went to an afternoon nap. After less than ½ hour or so, the alarms from his heart monitoring system began its warning sound. Nurses came to his aid, and they noticed Pouya is no longer breathing. I was told he possibly died of a stroke.
| | |
| --- | --- |
| With his Mom & Dad Same Day | With Mom Same Day |
His Mom and Dad were happy and excited that he left the ICU room. They were preparing themselves to leave Stanford for a hospital close to their homes in Walnut Creek. As the pictures in the Pouya's web site shows, we were ALL happy of his condition improving. However, all of a sudden, after an hour that I left the hospital, he was no longer alive.
Pouya has made so much impact on many people. Many people regardless of their nationality and religion. There were people at St. Francis church in Kansas, who never met Pouya in person, but they were praying for him. There were people in Denver, and many places in Iran, England, Australia, and of course the bay area of California. Pouya brought so many people together. I told him repeatedly, he inspired me so much with his personality and "STRENGHT" to hang in there. I vividly remember, on the 2nd day of his stay in the ICU, they told him, he can no longer eat through his mouth, since they might need to insert tubes into his lung, in case his heart stops beating. He was kicking and yelling at them that he can not take it anymore. He wanted to eat, and he hated all those tubes and needle in his arms that made him gets hurt every time.
Few moments later, we all started talking to him that how powerful he is and how much I was inspired by him. I told him, he should think like those political prisoners, who go on hunger strike for what they believe. Yet he is stronger, since those prisoners are not sick like he is. He was convinced he needs to do it only to let him fight the cancer inside of him. You should have been there, how excited he got that he inspired me and others that how his "attitude", and "will power" made me envy him. That we were so proud of him with his 16 old age, he is fighting MORE THAN any adult that I've come to know. We just asked him to do it one more time, and let the cancer know that he is a fighter. He made all of us proud, yet he did it with smile and enthusiasm.
As we let the mourning, healing and drying up our tears for Pouya take place, concurrently, the engine for the next battle of bone marrow registration and its policies will be building up momentum. For now, I leave it at that, and in due time, you'll be updated accordingly. I received great indications of interest in providing various types of support we are looking for. This campaign will be having great pool of enthusiastic talents equipped with above average available technology to help us kicking many places of many for many months/years. So please stay tune for future updates. Also, please don't hesitate to contact me, if you have any ideas or resources that can help us in this project.
Update: 5/20/99:
Dear Friends,
This letter has two separate parts that needs your help. In case you want to reply to my letter, please DO NOT use the reply button of your e-mail system, since in many cases, it dos not get delivered. Instead, please type my e-mail address in the address section. My address is: avazirabadi@hotmail.com
Part 1:
Yesterday (5/18/99, 3PM) , I received a call form Pouya's mother. She informed me that since 3 weeks ago that I visited Pouya, his condition has deteriorated tremendously. The tumor in his throat has been tested and it was diagnosed as a cancerous tumor.
Stanford hospital basically told her now she is free to do whatever treatment she would like to do on Pouya, which means they basically have given up on him. One development is that part of his throat tumor was sent to San Diego for an R&D company, who is making a new drug for this type of cancer. However the result is not known yet.
His mother first asked me to THANK all of you out there for supporting Pouya in this regard. However, more urgent request. She would like to know that ANYONE out there would know of ANY types of treatments that is known to them in regard to Cancer of Lymphoma, or other types that were treated successfully via: ANY drug, procedure, herbs, hospital, doctor, country, etc. If you know of a hospital that you've heard of in any types of research or anything that could help, please let me know immediately, so I can forward the message.
For those who are parents, I am sure, this method of making sure and checking "ANY" types of alternatives is the obvious path to take. Few days ago, his mother was told that Pouya's condition is not too hopeful at all, which she basically collapsed and she was sent to the Emergency room. So things do not look good at all. I plan to visit Pouya today (5/19/99). For sure, for those who are into praying, indeed, this is an area that this family needs a lot of it and the strengths to handle it, since accepting the bitter fact has been almost impossible thus far.
Part 2:
Within the next week or so, I am expecting to receive 4000-5000 pages of documents in regard to how we might be able to make the $70 blood testing to become free. However, this is only the beginning, and it needs many people to help it to happen. So I need the help of dedicated volunteers for the following areas. Please note that, when those of you, who were interested and "committed" of taking part in this campaign, I'll be sharing with you more detail. Types of support needed:
- People with Financial Analysis background. Basically, people who can comb through many pages of financial reports and extract valuable and noticeable information, discrepancies, issues, and other critical facts. People, with CPA background are excellent. The idea is part of the 5000 pages that relates to financial part to get separated among 2-3 people with such background, which ultimately, needs to be consolidated into a summary report and its backup information, as part of the whole package.
- People with knowledge of legal terms, contracts. Basically, people, who love to comb through foot notes, "*". Ideally, attorneys are excellent choice. However, anyone, who is interested to dedicate his/her time to read many pages and extract critical information will be needed.
- Web/Forum Master. One person is needed to create a forum for all of the above people, who will be working together through the Internet in the U.S. So basically, someone, who can mange the files, reports that people will be sharing with each other, as this project takes off. This person will handle the password protected forum. Also provides basic step by step training for the above people in how to get connected with one another over the net.
- People, who know ALL the detail process of blood testing (especially for HLA typing). People, who know how many of these labs exist, the type of cost and people who do the testing, and types of equipment they use. Better than that, people, who already know the detail cost breakdown of such test while identifying the cost breakdown. If one or two of you working in such places, or you know of a person who does, please forward this MAYDAY call to them.
I hope, I hear from enough people, so we can start this very rewarding endeavor. We need so much help, and only we can help ourselves. One disturbing fact that I am noticing is that the number cancer cases has been increasing, at least, among the people I know. So God forbid, it might hit any of us or our loved ones, when we least expect it. So the best thing to do is to prepare and have as much alternatives, as possible. I look forward to hear from you, and PLEASE forward this e-mail to others you know, who might be helpful in this regard. My e-mail address is: avazirabadi@hotmail.com
-----------------------------
About May of 1998, the 16 years old handsome Pouya Mofrad was diagnosed of having Non-Hodgkin's Lymphoma Cancer. Initially, after his diagnosis, Pouya went through extensive Chemo therapy, and for a while he began feeling better. At one point his victory over this deadly cancer made him and his mother very happy. However, few months later, the sign of cancer resurfaced with much more force and more determination to destroy Pouya. He was no longer able to go to his high school in Walnut Creek of Northern California. Due to extreme chemo therapy, he has lost his strength to continue school. In Jam E-Jam TV of N. Calif., they showed him how his beautiful black hair was turned to a bald head, due to so Chemo therapy, when compared with his picture before his cancer therapy.
However, despite his weakness and his struggle with his pain, you could not ignor his beautiful Black eyes wanting him to go out and play Soccer, or going back to his high school to attend his favorite classes. His eyes still were glowing with so much hope, when he was speaking Farsi with light sound of American accent, when asking people to come and help him for his lonely fight against cancer.
This time, his doctors in Northern California told him that he must go through a bone marrow implant. The most possible bone marrow candidates, statistically, are from his family, relatives, and then people from his native country. By doing so, we will provide Pouya a guarantee for many years of happiness ahead. We will be able to make sure Pouya's parents will see Pouya finishes his high school and see him in his high school cap and gown graduation ceremony, and then he moves on to college. We'll make sure, Pouya will be looking strong and athletic, as he was before. We will be guaranteeing them to see Pouya in a nice good looking wedding suite, while he is holding the hands of his beautiful future wife, for their wedding photo. However, in order for us to guarantee this simple right of life for Pouya, all we need to do is to donate 1-2 teaspoon of our blood to one of the Bone Marrow blood Centers, so they can run some test on them to see, if it'll match Pouya's bone marrow type.
For any questions please e-mail Ali Vazirabadi at: avazirabadi@hotmail.com
This is Pouya of 2 Years Ago! He loves computers, but he has decided to change major, if he could and go into medical field to help others like himself.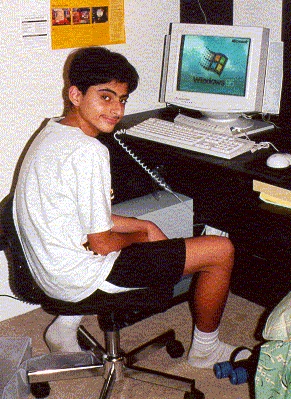 This is a picture before his cancer